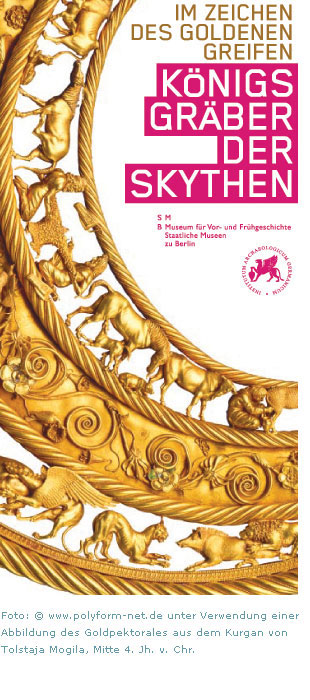 I think podcasts are an excellent promotional device for museums, yet I have not yet seen the medium applied very much. I thought it would help for museums to publish their audio tours they have anyway and while at it, they might add some more content. What better way for a visitor to come prepared after a series of podcasts. What better way to become interested in an exhibition when you have been sufficiently warmed up. In Germany an exhibition about the Scythians has applied this method and done so very well. Museums in Hamburg and Berlin have profited - I hope.
I traced the podcast through Chronico's
Geschichtspodcast
, that I have reviewed before (
Geschichtspodcast - history podcast review
), where the maker of the
Skythen-podcast
(
Im Zeichen des Goldenen Greifen; Königsgräber der Skythen
), Birge Tetzer was interviewed and explained the ratio of making a podcast series for a museum exhibition, just as I pointed out above. She also explains how to cut the issues for an audience as wide as to range from the ignorant and mildly interested, to the enthusiast experts.
Tetzer interviewed Hermann Parzinger, of the German Archeological Institute, to explain about the Scythians and his research after them and cut this to thematic, short and to the point podcasts. They range from explaining the origins of the Scythians, the range to where they lived, the sources we have for them (mostly Herodotus) and eventually what remains of them today. Between the sound bits of Parzinger's, Tetzer explains what can be seen on the exhibition, relevant to the theme at hand. It feels I have already been there and as soon as I get near the exhibition, or it gets near me, I will attend.
Previously:
Geschichtspodcast - history podcast review
,
When Steppe meets Empire
,
Gengis Khan
,
Dan Carlin about the Scythians and other steppe people
.