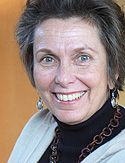 In the latest edition of Shrinkrapradio,
Dr. Dave interviews Dr. Myrtle Heery.
(Show #115). The introduction is such:
Myrtle Heery, Ph.D., M.F.T. is Associate Professor of Psychology, Sonoma State University, Rohnert Park, California, and Adjunct Faculty at the Institute of Transpersonal Psychology in Palo Alto, California,. She has taught at both universities for eight years, mentoring masters and doctoral students of psychology, as well as organizing, sustaining, and leading groups. In addition, she is Director of the International Institute of Humanistic Studies through which she offers two-year training program nationally and internationally for helping professionals. This training leads to certification of in-depth communication in both individual and group settings. She gives day-long introductory trainings across the U.S. including Arizona, California, and Texas. She is in private practice in Petaluma, California leading consultation groups for therapists and seeing individuals, couples, and families, and leading annual retreats for mothers. Myrtle also volunteers for Petaluma hospice bereavement, helping individuals and leading groups. She has published papers and chapters in psychology journals and books on bereavement, existential-humanistic, and transpersonal psychotherapy and psychology. In addition, she was a contributing editor and published in the Yoga Journal and studied and taught extensively with James F. T. Bugental, Ph.D., first president of the Association of Humanistic Psychology.

Together with this professional introduction, Dr. Dave enters the interview also with a sound clip, from the interview, as an eavesdrop of what is yet to come. In that excerpt Myrtle says something about her near-death experience and what she thinks of the afterlife. This indicates the kind of intimacy and depth the interview will bring. She will also freely give details of an occurrence in which she heard voices. And all of this with educated analysis from existential, humanistic and transpersonal psychology.
Dr. Dave makes a very deep personal connection with her. This is when SRR is at its best. The two speakers enter into genuine conversation, more free of manipulation, boundaries and reserves than a regular interview. You do not even have to like psychology or appreciate David's and Myrtle' outlook on life. To listen in on their talk is a privilege. A true podcast treat. If you have some appreciation of an alternative outlook on life, this is truly inspiring.