De komende 18 weken zal
OVT
uitgezonden worden vanuit Amsterdam in gezelschap van Geert Mak. Er is een televieserie gemaakt naar aanleiding van Maks onvolprezen boek
In Europa
- een boek dat ik ook zelf vervuld van diepe indruk gelezen heb. (Mooie aanleiding om het weer eens uit de kast te pakken.) Europa, dat continent van laatbloeiers en de eeuw, de 20e waarin het zichzelf haast om zeep helpt, net overleeft en rijker dan ooit naar het tweede plan schuift.
De
eerste aflevering
moest natuurlijk over het begin gaan. Er is een discussie over waar de 20e eeuw begint. Hobsbawm's
Een eeuw van uitersten
(Ook gelezen; ook maar weer eens uit de kast pakken. Gelukkig dat ik ze uit NL heb laten overkomen) laat de eeuw in 1914, bij de eerste wereldoorlog beginnen. Geert Mak, laat zich liever niet tot een discussie verleiden en ziet liever een meetkundige benadering, hoewel je dan weer kan twijfelen tussen 1900 en 1901. Aanwezig is ook de Vlaamse historicus Evert Peeters, die vervolgens voorstelt om meteen maar in 1848 te beginnen. Dat gaat wel heel ver terug.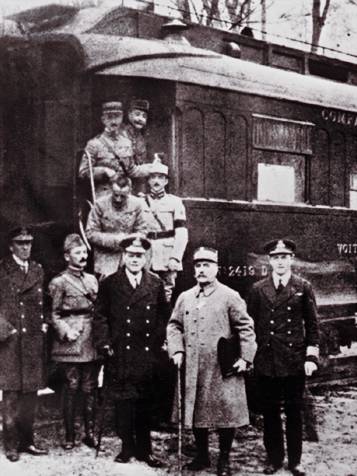 Uiteindelijk kan toch niemand om de eerste wereldoorlog heen, vooral ook niet doordat de uitzending precies valt op de dag van de wapenstilstand: 11 november. Ik ben geneigd met iedereen mee te gaan die met de eerste wereldoorlog de twintigste eeuw wil laten beginnen. Het waarom, is omdat de 19e eeuwse mentaliteit doodgaat in het industriele oorlogsvernuft. Maar waar gebeurt dat het eerst. Misschien al met de Russisch-Japanse oorlog? Of misschien na de kerst van 1914, wanneer de legerleiding aan beide kanten het spontane bestand verbieden. Of misschien aan de Somme, 1 juli 1916. De oktoberrevolutie, 1917? Als uiteindelijk de vrede begint op 11 november 1918, is er geen twijfel meer mogelijk: we staan met beide benen in de 20e eeuw. De 19e ligt dood in de modder. Ratten knagen aan het kadaver.
De vraag gaat ook worden waar het eindigt. Hobsbawm wist niet beter dan in 1989-1991, met de ineenstorting van het sovjetrijk te eindigen. Maar het zal me niet verbazen als de consensus zal worden dat de 20e eeuw eindigt en de 21e begint, op 9 september 2001. Vandaag staan we zeker met beide benen in de 21e eeuw. De 20e is dood, bedolven onder het puin van ground zero.